Airport Transfer
Getting to the airport can often be the most stressful part of any journey. Parking your car in the parking areas, cramming into packed tube trains, relying on friends or family to pick you up on time all create stress before you've even reached the airport.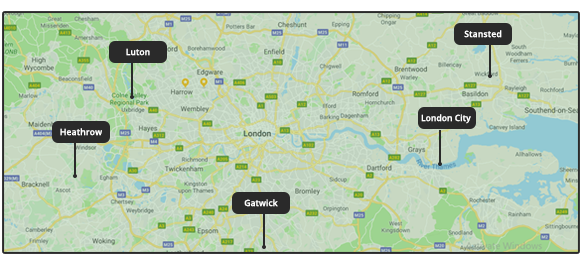 So, why not take all of the stress out of getting to the airport by taking a taxi instead? Our drivers are able to get you to the airport exactly on time, and they know the exact routes to take in order to avoid traffic and any other problems. All this means you can sit back and relax, and look forward to getting on your flight exactly what you want when heading away on business or pleasure.
We cover airports throughout the region, so whether you need a taxi to Heathrow, a taxi to Gatwick, or a taxi to any of the other airports in the area, we can help. What's more, we ensure that we keep our prices competitive – without ever compromising on comfort or quality so your trip to the airport could be much less expensive than you think. We'll always give you a solid price before booking, so there won't be any hidden surprises when you arrive, and you can also prepay, so that you don't have the hassle of paying on the day.
We will also be able to send a vehicle suitable for your requirements for example, we can send a minibus for larger groups. This means that your whole family or group can travel together, which lessens the stress and increases the fun! Just let us know your requirements when booking and we'll make sure a suitable vehicle is with you on the day.
As well as dropping you off at the airport, we are also able to be there when you get back, and to transport you back home in the least stressful way possible. Our drivers will be waiting for you in the arrivals lounge when you come through the gates, and will always help you with your luggage back to the taxi.
We provide taxi services to hundreds, if not thousands of people every month, and we know that the service we provide is second to none. So, if you would like to book an airport transfer, please call us or email us today. Alternatively, why not download our app and book directly from your phone.